About Book Works Publishing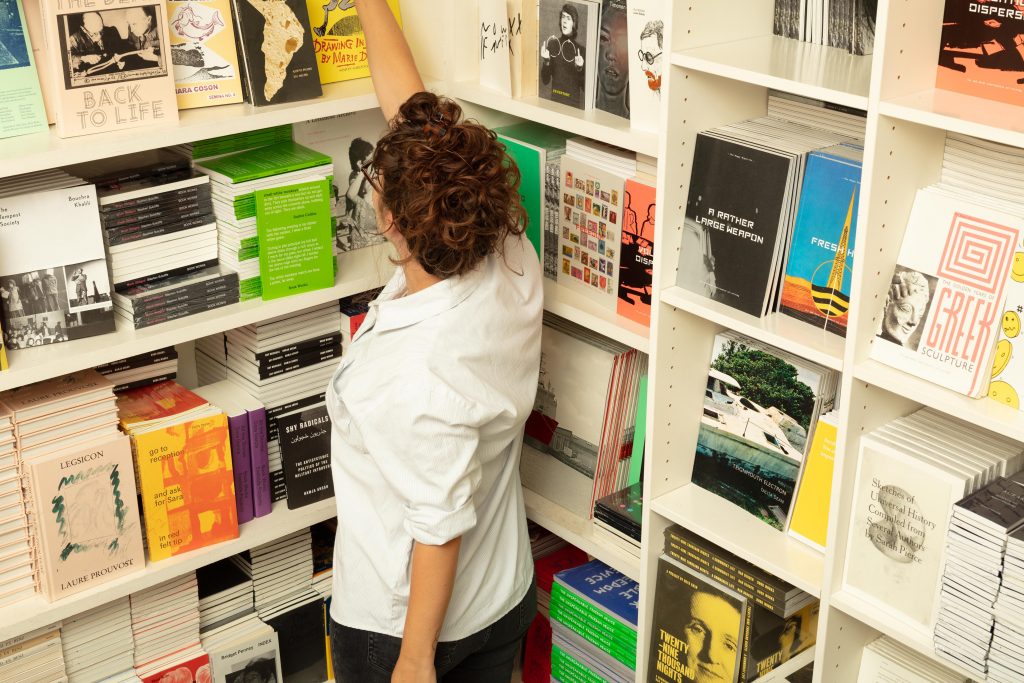 I'm very against trying to pin things down, either with meaning or in time, because I think that the moment you fix it, something dislodges it. And I've always been quite reluctant to define what an artist's book is for similar reasons, because I think the minute you define it, you immediately want to do something outside of the scope of what an artist's book is. It's as if you are cornering yourself, or being asked to come up with a position. I always thought that they are all just books. Or all just works. – Jane Rolo, Founding Director, from Again, A Time Machine: from distribution to archive
We are dedicated to supporting new work by emerging artists, and our projects are initiated by invitation, open submission, and through guest-curated projects.
Our activities include publishing, a lecture and seminar programme, exhibitions, the development of an on-line archive, and artists' surgeries and workshops held by both the publishing department and the studio.
'Book Works was established in 1984 'to advance education for the benefit of the public in the visual arts, particularly books which may be recognised as art works in their own right. Set up to commission, produce and publish art works, organise exhibitions, lectures and workshops, and to provide instruction, education and training in all aspects of the visual arts including books. Book Works will act as a national resource for artists' books and those involved in publishing in the arts; distribute art books to a wide and varied audience; and engage, provide, train and employ artists, writers, editors, designers and those with appropriate skills of all kinds and to commission them to produce new work.' – Book Works Memorandum and Articles of Association
Book Works is a registered charity, a National Portfolio Organisation of Arts Council England, and has received the generous support from a number of Trusts, Foundations and other funding bodies.
Distribution
We distribute our own titles in the UK, visiting bookshops, galleries and libraries.
For more information on sales and distribution, please contact Paul Sammut.
To view our current catalogue please click here.
On the right is a small selection of bookshops and libraries that carry Book Works titles. For a full list of libraries and bookshops in the UK, Europe, Japan and USA, please see Fact-sheet Four in the Resources section.
Our international distributors are Idea Books covering worldwide sales including Europe and the USA.
Idea Books
Amsterdam
Tel +31 20 6226154
Fax +31 20 6209299
Email
Libraries
Baltic Centre for Contemporary Art Library and Archive,
Gateshead, UK
Bibliothèque d'Art et d'Archaeologie,
Geneva, Switzerland
Chelsea School of Art Library,
London, UK
Chetham's Library,
Manchester, UK
Edinburgh College of Art Library, Edinburgh, UK
The Fales Library and Special Collections,
New York University, New York, USA
Glasgow School of Art Library,
Glasgow, UK
Joan Flasch Artists' Book Collection,
John M Flaxman Library, Chicago, USA
Midway Contemporary Art,
Minneapolis, USA
Museum of Modern Art Library,
New York, USA
Research Library, Getty Research Institute,
Los Angeles, USA
Rare Book and Manuscript Library,
Columbia University, New York, USA
Landesbibliothek und Murhardsche Bibliothek der Stadt Kassel,
Kassel, Germany
Bookshops
Arnolfini Bookshop,
16 Narrow Quay, Bristol BS1 4QA
Artwords,
20-22 Broadway Market, London E8 4QJ
Aye-Aye Books,
CCA, 350 Sauchiehall Street, Glasgow G2 3JD
Camden Arts Centre Bookshop,
Arkwright Road, London NW3 6DG
Category Is Books,
34 Allison St, Glasgow G42 8NN
Fruitmarket Gallery Bookshop,
29 Market Street, Edinburgh EH1 1DF
Good Press
5 St Margaret's Place, Glasgow, G1 5JY
ICA Bookshop
12 Carlton House Terrace, London SW1Y 5AH
Inga Books
1740 W. 18th Street, 60608, Chicago, USA
Koenig Books
Whitechapel Gallery, 77-82 Whitechapel High Street, London E1 7QX
Lighthouse Books
43-45 West Nicolson Street
Edinburgh EH8 9DB
London Centre for Book Arts
Britannia Works, 56 Dace Rd, London E3 2NQ
Post Poetics
19 Itaewon-ro 54-gil, Yongsan-gu, Seoul, South Korea
Printed Matter
231 11th Avenue, New York, NY, 10001, USA
Tate Modern Bookshop,
Bankside, London SE1 9TG
Tenderbooks
6 Cecil Court, London WC2N 4HE
Zabriskie Bookstore
Reichenberger Str. 150, 10999 Berlin, Germany
Fairs
Book Works participates in prominent book and art fairs, including:
Index, Mexico City
Dublin Art Book Fair
Artists' Bookmarket, Edinburgh
Miss Read, Berlin
Bergen Art Book Fair
Offprint, London
Duplicate, Birmingham
The New York Art Book Fair
The LA Art Book Fair
Focal Point, Sharjah

Fact-sheets
These fact-sheets are an introduction to self-publishing for artists. Based on Book Works' model of publishing, the information will be of use to artists, writers, galleries and small presses and the four fact sheets cover all aspects of publishing from the initial production through to marketing, sales and distribution, including further reading, contacts and resources.
Artist's Surgeries
We run monthly artist's surgeries for artists, curators, editors, writers and designers who are considering or developing a book project. These meetings offer the opportunity to discuss the conceptual and technical issues of book production, design, marketing and distribution. These are not opportunities to pitch projects to us, but for us to lend our experience and aid people in the development of their projects. These surgeries are free to book for independent practitioners. In the past we have held these meetings in person, but are now offering them online.
We are also available to universities and organisations for group discussions or presentations about either Book Works Publishing or work in the Studio.
If you have any questions, or would like to book an artist's surgery, please contact Paul Sammut
Lectures
Book Works is regularly invited to present guest lectures at universities, for courses ranging from Graphic Design, Fine Art and Book Binding to Critical Writing and Art Writing, at both BA and MA level, as well as more informal talks at bookshops, galleries and project spaces.
For more information or to arrange a lecture contact Gavin Everall