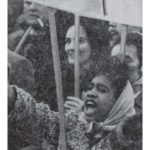 Beyond Words is a year-long project that celebrates artists' books through creating and exhibiting new work and providing a book making and learning programme. Following the commission of ten artists' books and a one-day book fair at Hull Central Library, Book Works has commissioned two artists' library residencies at WISE (Wilberforce Institute for the study of Slavery and Emancipation) and Hull History Centre with Helen Cammock and Ruth Ewan. New work resulting from these residencies will be shown alongside newly commissioned Kanga paintings by Lubaina Himid, alongside three new artists' books.
Previously commissioned were ten artists' books on the theme of Freedom by Between the Borders Between the Borders No 4. The Freedom Deficit, Libita Clayton FORGET THAT GUY (message from a freedom fighter), Theresa Easton The Right and Freedom To A Home, Jacob V Joyce QTOPOC Super Powers Volume One, Rudy Loewe Moving Through Borders, and Nick Norton AKA: A Genealogy of the Saddle.
Forthcoming in September is a newly commissioned artist book and exhibition by Ruth Ewan.