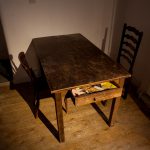 Dr Sinclair's drawer was an exhibition produced by Book Works and Flat Time House with artist Katrina Palmer, following her residency at Flat Time House in Summer 2013.
Featuring work by Katrina Palmer, Francesco Pedraglio, Samuel Hasler and Sarah Tripp, the exhibition comprises writing, sound recordings, video, sculpture and printed matter, presented in conversation with the physical and symbolic environment of John Latham's former home and studio.
The Fabricator's Tale, Katrina Palmer's second book to be published with Book Works and partly written at Flat Time House, was launched at the opening of Dr. Sinclair's Drawer on Wednesday 8 October 2015.
Using language to construct both real and fictional objects and spaces – glitches, obstructions, folds and dead ends – this exhibition featured new work by four artists who use writing and spoken word as their primary media. Brushing aside the formal distinction between art and literature and stepping outside the restrictions of conceptual art practice – the limits of juxtaposed text and image, the institutional demands of theory and the surface configuration of concrete poetry – each artist in their own way embraces the freedom of literary form. Utilising language as a controlling device they shape content into familiar forms – sculpture, installation, an essay or an anecdote, video and voice, the self-consuming novel or pulp noir fiction. For each of these artists the use of language as material extends to the performative relation between writer and reader, where the reader is inculcated into the process through either private reading and listening or in live, public performance.
In addition to the launch event, Book Works and Flat Time House in collaboration with the Hayward Gallery presented an evening of readings and performance by Katrina Palmer, Samuel Hasler, Francesco Pedraglio and Sarah Tripp.
Saturday 15 November 5pm at the Hayward Gallery Project Space, Southbank Centre, as part of a weekend of events for the exhibition MIRRORCITY: London artists on fiction and reality, Hayward Gallery, 14 October 2014 – 4 January 2015.
Why edit? Approaches to editing in independent art publishing, was a workshop led by Francesco Pedraglio, and Gavin Everall, at Flat Time House. The workshop acted as an introduction to the process of editing in relation to artists' books, covering questions relating to both writing and images, collaborative writing practices, rules and protocol, grammar and the spoken word, as well as the more nitty-gritty issues regarding collating texts, images, captions, and proofing.