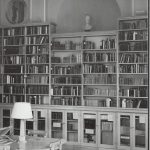 The Reading Room(1994), a project initiated by Book Works, takes the form of a series of new commissions by artists and writers on the theme of books, reading and knowledge through reading.
The Reading Rooms created will be both physical sites and conceptual spaces in which dialogues may take place, highlighting the setting in which some information and knowledge is selected and controlled. In keeping with the theme, the reading rooms will be shown in a variety of different locations in London, Glasgow and Oxford, including regular exhibition spaces such as Camden Arts Centre (London), Museum of Modern Art (Oxford) and Transmission Gallery (Glasgow) where the writers will interpret their notion of a reading room in a visual setting.
Libraries and museum spaces like the Bodleian Library, Voltaire Room (Oxford), British Library and Freud Museum (London) will provide the site for work that is determined by association and by the nature of the space itself, whilst places like The Castle Mound (Oxford) and the Royal Botanic Garden (Edinburgh) have a particular resonance as sites for reading rooms. The Reading Room aims to pose questions about the relationship between text and image in culture and art practice today, looking at how we 'read' art, and what the future may bring in terms of expanding our experience (of reading) by encouraging us to think about the relationship between how and where information and knowledge is received or stored. The artists and writers have responded by creating imaginative reading rooms about which and in which these debates can take place.
The Reading Room Lothar Baumgarten, Michael Bracewell, Susan Brind, Brian Catling, Sean Cubitt, Janice Galloway, Douglas Gordon, Jim Harold, Susan Hiller, Hrvoje Horvatic, Ian Hunt, Jackie Kay, Joseph Kosuth, and Elaine Reichek.