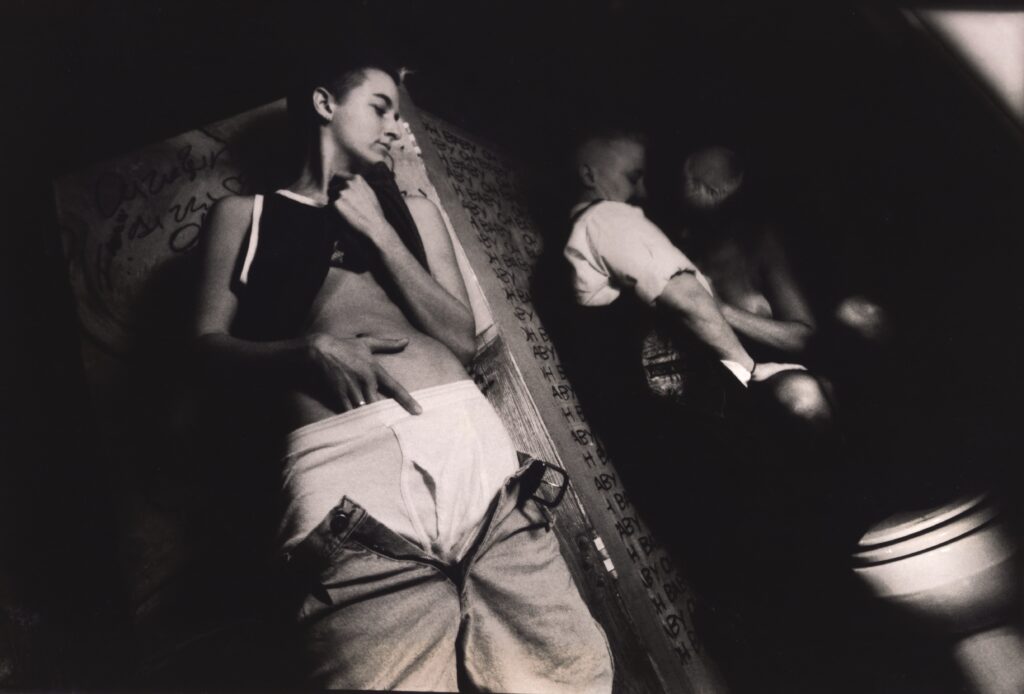 Dark Room launch
Friday 4 March 2022
6.30–8.30pm
Grand Union Gallery
Minerva Works, 158 Fazeley Street
Birmingham, B5 5RS
Join Phyllis Christopher, Grand Union and Book Works on Friday, 4 March at Grand Union to celebrate the launch of the long-awaited Dark Room: San Francisco Sex and Protest, 1988–2003 and mark the end of the Heads and Tails exhibition. The launch is free and open to all – for more info visit the Grand Union site.
Dark Room brings together fifteen years of Christopher's work, negotiating street, club, and studio, with camera in hand, to compose a portrait of a community simultaneously defining radical articulations of queer lesbian sexuality and defending its bodily autonomy in the face of right-wing politics, the AIDS crisis and urban gentrification.
Reproducing photographs of startling intensity and sensuality alongside new writing by Susie Bright, Laura Guy, Michelle Tea and an interview with Shar Rednour, Dark Room is a heartfelt record of Christopher's devotion to an analogue tradition, to the pleasures of photographs and the community that made them.
This event will mark the closure of Phyllis' show at Grand Union, an exhibition that enters the 'heads and tails' of her published work. The exhibition blurs the lines of her personal collection and commercial shooting, showcasing queer collectivity and joy.
If you can't make it to the launch you can still pre-order the book here, and more events will be announced in due course.
Dark Room has been made possible with the support of a Develop Your Creative Practice Arts Council England Grant, and the generous support of individuals through Kickstarter.
---
Readers Club
Join by the end of March for just £5/month (or £50/year) and you'll receive Dark Room as your first title.
The Book Works Readers Club celebrates the vital role our community of readers has in our mission to support experimental publishing and cultivate an engaged readership for ambitious and innovative new work by emerging artists.
As a member of our Readers Club:
– You will receive a copy of all new books published during the subscription year in the post as soon as they are released. (We publish 8-10 books annually, the subscription offers over 50% discount)
– You will receive a 10% discount code to use throughout the year on all additional book purchases through our website.
The forthcoming programme includes the following artists and writers:
Jesse Darling, Diana Georgiou, Huw Lemmey, Harun Morrison, Sofia Niazi, Francesco Pedraglio, Prem Sahib, Derica Shields, Lucy Skaer, Rosa-Johan Uddoh, Isabel Waidner and more.
Books are zero-rated for VAT in the UK. Postage for all Readers Club Members is free, but international deliveries are subject to local customs import and tax charges which are the responsibility of the customer.
---
ABOUT US
Book Works is a leading contemporary arts organisation with a unique role as makers and publishers of books.
Established in 1984, we are dedicated to supporting new work by emerging artists. Our projects are initiated by invitation, open submission, and through guest-curated projects. Book Works consists of a publishing and commissioning department; and a studio specialising in binding, box-making and multiples.
STUDIO
The Book Works Studio offers a specialist bespoke service for a range of clients, from artists, designers, galleries, and businesses. We provide binding solutions, develop prototypes and specialise in unique book artworks, boxes, and portfolios. We have an extensive archive, and offer tailored educational events, and bookbinding courses. The Studio generates income from clients and is self-sufficient.
PUBLISHING
Book Works Publishing is dedicated to supporting new work by emerging artists. Our projects are initiated by invitation, open submission, and through guest-curated projects and include publishing, a lecture and seminar programme, exhibitions, the development of an online archive, and artists' surgeries and workshops.
Our audience is vital to our work. The process of engaging and developing our audience is initiated with our commissioning programme, and driven through all aspects of our activities, particularly our public programme of events, our workshops, artists' surgeries and education activities, and through our interest in collaborating with other organisations and libraries. Our programme of commissions is diverse, and reflects our commitment not just to work with cultural workers from all backgrounds, but to invest in networks and programmes that engage, and develop and create new artistic voices.
Recent Commissions
Include new projects with: Phyllis Christopher; Francesco Pedraglio; Sarah Tripp; Praneet Soi; Stuart Brisley; Nina Wakeford and Art on the Underground; Erica Scourti; Sophia Al-Maria; Bouchra Khalili; Laure Prouvost; Stephen Sutcliffe; Joanne Tatham and Tom O'Sullivan;  Contact – a series guest edited by Hannah Black with Hamishi Farah, Momtaza Mehri and Derica Shields; and Interstices, a fiction series edited by Bridget Penney with Harun Morrison, Diana Georgiou and Licorice by Bridget Penney.
SUPPORT US
By supporting Book Works you will help support artists and writers at the emerging stage of their careers through our diverse commissioning programme of open submissions, guest editorships, public events, exhibitions and publications.
CHARITY
Book Works is a registered charity, dedicated to advance education for the benefit of the public in the visual arts, particularly books which may be recognised as works of art in their own right.
TRUSTEES
We have a board of trustees who input their range of diverse expertise and interests into our development:
Teresa Drace-Francis (Chair)
Nick Brown
Michael Mack
Claire Malcolm
Gerrie van Noord
---
Book Works

19 Holywell Row

London EC2A 4JB