Book Works & Phyllis Christopher at Offprint London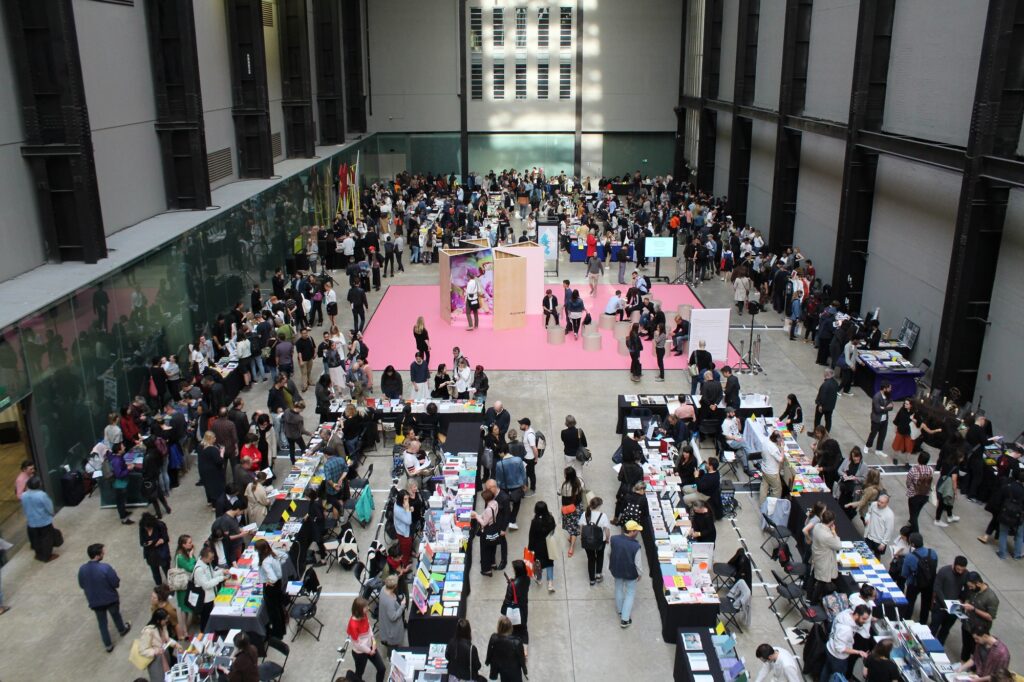 We're excited to be back in the Tate Modern Turbine Hall at the weekend for Offprint London, the annual fair for experimental and independent arts publishers.
On Saturday 14th May, 2.30pm, Phyllis Christopher will be giving a talk in the MacAulay Studio about her new book Dark Room (no booking necessary), and she'll be signing copies at on the Book Works stall afterwards. See you there!
---
Graphic Negotiations #3 – Erik Hartin & Moa Pårup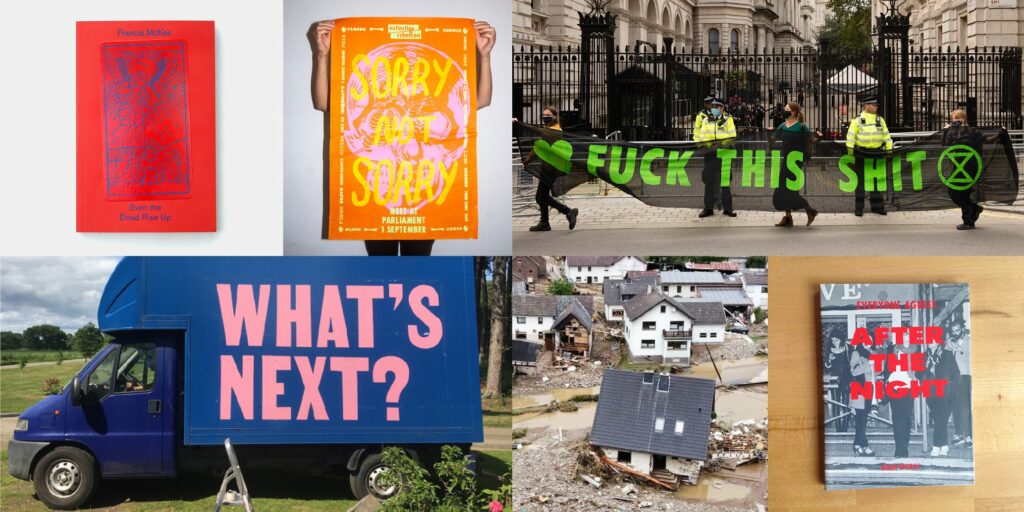 Join us online on Wednesday 18 May at 1pm for the third in our Graphic Negotiations series of events exploring designing artists' books (RSVP).
This third event in the series features Erik Hartin and Moa Pårup, who we have a long history of collaboration with, both as a duo and separately. As designers, they have worked on projects with Sophie Collins, Francis McKee and Kit Poulson, as well as the Book Works website. As part of the collective Everyone Agrees (with Clodagh Kinsella), Erik has instigated, co-edited and designed After The Night and The Night (Michèle Bernstein) as part of the Common Objectives series.
Erik and Moa have a background as designers, art directors and writers in the arts, fashion and cultural sectors. Since 2019, they have pivoted their practice to focus on planet-centric design, which means a much stricter focus in terms of only taking on work that has the potential to actively change the world for the better. As part of their practice, they co-coordinate the Extinction Rebellion art group and are in the process of launching Not Here To Be Liked, a creative consultancy studio along with artist and activist Liam Geary Baulch.
Erik and Moa will be talking about design practice in the face of a climate and ecological emergency. What's at stake, and how designers and artists can help affect culture for the better. And of course, books!
Graphic Negotiations is a series of lunchtime talks with designers, many of whom we've worked with in the past. The format and topic will vary, but all events will be online only, free to attend and will be between 1-1.45 pm on a weekday. The next two events are:
Wednesday 18th May – Erik Hartin and Moa Pårup (RSVP)
Wednesday 15th June – Rose Nordin and Rosa-Johan Uddoh
Sign up to the Book Works newsletter for details of future events.
---
May Book of the Month: Twenty-Nine Thousand Nights, a Communist Life by Nan Berger A Project by Ruth Ewan
Our Book of the Month for May is Twenty–Nine Thousand Nights: A Communist Life by Nan Berger, a project by Ruth Ewan (2017). Commissioned for Beyond Words, Ruth Ewan unearthed an unpublished manuscript of Nan Berger (1914–1998) – international activist, writer and editor, and lifelong member of the Communist Party. Now a forgotten figure she gained brief public recognition for her work in the Ministry of Transport, resolving the coal crisis in the winter of 1947–48 for which she was awarded an OBE.
Her autobiography is unfinished, consisting of contemporary notes alongside more detailed accounts of parts of her life: the anti-fascist struggles of the 1930s, pre-war USA, post-war life in Poland, China and her activities with the National Council of Civil Liberties and the anti-apartheid struggle. The gaps are filled by Ruth Ewan with archival material that ranges from MI5 surveillance files, family photographs, archived journals and publications, that presents evidence of an extraordinary life of radical politics and compassion for others.
Get it for just £10 (30% off) until the end of the month!
---
ABOUT US
Book Works is a leading contemporary arts organisation with a unique role as makers and publishers of books.
Established in 1984, we are dedicated to supporting new work by emerging artists. Our projects are initiated by invitation, open submission, and through guest-curated projects. Book Works consists of a publishing and commissioning department; and a studio specialising in binding, box-making and multiples.
STUDIO
The Book Works Studio offers a specialist bespoke service for a range of clients, from artists, designers, galleries, and businesses. We provide binding solutions, develop prototypes and specialise in unique book artworks, boxes, and portfolios. We have an extensive archive, and offer tailored educational events, and bookbinding courses. The Studio generates income from clients and is self-sufficient.
PUBLISHING
Book Works Publishing is dedicated to supporting new work by emerging artists. Our projects are initiated by invitation, open submission, and through guest-curated projects and include publishing, a lecture and seminar programme, exhibitions, the development of an online archive, and artists' surgeries and workshops.
Our audience is vital to our work. The process of engaging and developing our audience is initiated with our commissioning programme, and driven through all aspects of our activities, particularly our public programme of events, our workshops, artists' surgeries and education activities, and through our interest in collaborating with other organisations and libraries. Our programme of commissions is diverse, and reflects our commitment not just to work with cultural workers from all backgrounds, but to invest in networks and programmes that engage, and develop and create new artistic voices.
Recent Commissions
Include new projects with: Phyllis Christopher; Francesco Pedraglio; Sarah Tripp; Praneet Soi; Stuart Brisley; Nina Wakeford and Art on the Underground; Erica Scourti; Sophia Al-Maria; Bouchra Khalili; Laure Prouvost; Stephen Sutcliffe; Joanne Tatham and Tom O'Sullivan;  Contact – a series guest edited by Hannah Black with Hamishi Farah, Momtaza Mehri and Derica Shields; and Interstices, a fiction series edited by Bridget Penney with Harun Morrison, Diana Georgiou and Licorice by Bridget Penney.
SUPPORT US
By supporting Book Works you will help support artists and writers at the emerging stage of their careers through our diverse commissioning programme of open submissions, guest editorships, public events, exhibitions and publications.
CHARITY
Book Works is a registered charity, dedicated to advance education for the benefit of the public in the visual arts, particularly books which may be recognised as works of art in their own right.
TRUSTEES
We have a board of trustees who input their range of diverse expertise and interests into our development:
Teresa Drace-Francis (Chair)
Nick Brown
Michael Mack
Claire Malcolm
Gerrie van Noord
---
Book Works

19 Holywell Row

London EC2A 4JB