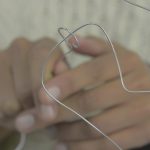 'Contact' is a series guest edited by Hannah Black and selected from open submission.
The series commissioned Hamishi Farah, Momtaza Mehri and Derica Shields to work with Hannah Black on three individual book projects proposed via open call.
Open Call text:
'This is a call for submissions to work with me and the editorial team at Book Works on a project that takes the form of a small book. This book can comprise fiction, theory, poetry, fragments, drawings, texts, graphic novels, annotated drawings, poems, diagrams, or anything else. The very loose theme is contact.
'I'm looking for works that encounter the complications of encounter: friendship/enmity, scenes, screens, movements, moments of togetherness. Contact can span from moments of intensity to networks of alienation, from the professional to the personal, from the colonial to the queer, from the stranger to the extra-terrestrial.
'Contact can be a word for wordless physical closeness, whether sex or violence, or for conversation. I would like it to indicate an aspect of the shared everyday – just kind of rubbing along together, hanging out, in our many configurations – or else, as a noun ("add to contacts"), it can signal individuals as possibilities, as usages. It can interrupt a loss, as when word unexpectedly comes from a missing person, or pierce a plenum, as in sci-fi movies where aliens reach out or invade, or when colonisers do the same in known reality. I'm using contact to mean the ever-present possibility that the social just is, that it's there, an indifferent medium, an amniotic fluid for whatever the life among us is pregnant with. But you can write about any of these things or none of them or whatever they make you think of.'
– Hannah Black