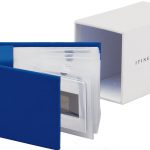 Itinerant Texts is a set of original slide works by twelve international artists. Judith Barry, Robert Barry, Angela Bulloch, Tacita Dean, Jimmie Durham, Tracey Emin, Liam Gillick, Douglas Gordon, Susan Hiller, Joseph Kosuth, Tracy McKenna and Simon Patterson have created works commenting on travel, transience and the nature of site-specificity.
The works were originally commissioned by Book Works for Artist / Author: Contemporary Artists' Books, a touring exhibition organised by the American Federation of Arts. Itinerant Texts stakes as its starting point the idea of the artist as itinerant worker, continually traveling on a kind of circuit and producing site-specific work.
Itinerant Texts was also published as an edition of 40 signed and numbered copies consisting of slides with an explanatory booklet housed in a blue neoprene folder, which itself is contained in an embossed, fabric-covered slip-case. Designed by Rob Hadrill at Book Works.