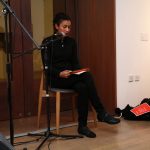 Katrina Palmer is an artist and writer, living in London. Palmer works with storytelling, distributing fragmented elements of narrative across found sites, audio environments, printed matter and performance. The site of writing and the process of attempting to materialise, edit and reformulate ideas is often articulated through the work. Attentive to uncertainties, bodily vulnerabilities and insecure environments, these situated narratives invite the audience to consider objects that are indicated, but not fully present.
She is the author of The Fabricators Tale (2014) and End Matter (2015), both published by Book Works. Her first book The Dark Object , commissioned by Book Works from open submission as part of the Semina series, is now published in a third edition, (2023).
She has exhibited extensively, including Dr. Sinclair's Drawer – an exhibition produced by Book Works and Flat Time House, following her residency at Flat Time House in Summer 2013, and with an Artangel Open commission (2015), at Henry Moore Institute (2015-16), Yorkshire Sculpture Park (2018), and with Estuary and Waterfronts (2021).
Her 2023 solo exhibition, 'What's Already Going On', at Mead Gallery, Warwick Arts Centre, will be accompanied by a new Book Works publication titled Black Slit (February 2023)
She is currently guest editor of Arrhythmia – a new series of publications selected from open call due for publication in 2023-24.