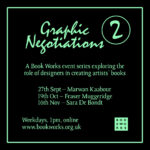 A new event series exploring the role of designers in creating artists' books.
Book Works sees graphic design as crucial to realising artists and writers' ideas in the final form of the book. While conventionally designers often become involved in the later stages of a book's production, and with a limited brief, we involve the designer in a collaborative process from the start, with designer, artist and editor working together to create a book that realises the artists' vision.
We are hosting a series of lunchtime talks with designers, many of whom we've worked with in the past. The format and topic will vary – we wanted to give designers the opportunity to present their work in whichever way they choose. In some cases designers will be in conversation with artists they've collaborated with in the past, in others they'll talk about their work and ideas more generally or present a visual portfolio.