Infra Thin Projects: Curated by Mark Beasley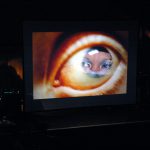 Infra thin Projects examines the limits and potential of the written and spoken word. Adoption the mechanics of a viral infection, the project exists between exhibitions, between spaces and over time. Infra thin Projects tours between London, the Midlands and Belfast in 2004. The possible is an infra thin: the writer requires the reader.
Commissioned artists included: Fabienne Audéoud and John Russell, Tilo Schulz and Mark Hamilton, Lawrence Weiner and Ned Sublette, Mark Titchner, Bonnie Camplin, and Mark Leckey.