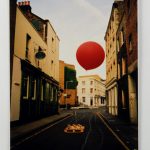 Open House (1998-2001) has given curators the opportunity to work in partnership with Book Works to commission, develop and promote innovative new practices. Initiated to encourage an active dialogue between artists and curators, Open House also seeks out new audiences.
Publish and Be Damned curated by Matthew Higgs (1999), commissioned publications by Jeremy Deller, Inventory, Frances Stark, and the anthology Seven Wonders of the World.
In 2000 Stefan Kalmár, curated Access/Excess, with four publications by Doug Aitken, Angela Bulloch, Janice Kerbel and Nils Norman.
Craig Martin curated Warm Seas (2001) for the third and final year of Open House , commissioning four new books by Rainer Ganahl, Thomas Hirschhorn, Daniel Jewesbury and Christian Nold.